Hay High Quality / Oats Hay Animal Feed for Sale - Pietermaritzburg
Wednesday, 25 September 2019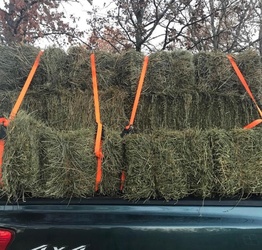 Item details
City:
Pietermaritzburg, KwaZulu-Natal
Contacts

Judith

0836765939
Item description
Quality Alfalfa Hay for Animal Feeding Stuff / hay cubes / alfalfa hay and cubes
afalfa hay is an excellent source of good quality protein and fiber. Alfalfa is a legume hay and times called "lucerne".
These hays are higher in protein and minerals and are more palatable than grass hays. Alfalfa in particularis high in
energy and is an excellent source of vitamins and minerals. When properly cured, alfalfa is the best of the legume h ays
from a nutrient standpoint. It has the most feed value of all the perennial pastureforages. Alfalfa is used as for horses,
dairy cows, beef cattle, sheep, chickens, turkeys and other farm animals.

Alfalfa hay

Crude Protein - Min 19.5%

Crude Fat - Min 1.5%

Crude Fiber - Max 30%

Moisture - Max 12%

Product Specification / Models

Color: Green

-Type: Premium Grade Hay

-20-25kg

-Single or double compressed bales

-2 tie or 3 tie.

-Moisture: ~10%

-Admixture:~1%-2%

-Protein:~16% min

-Acid Detergent Fiber (ADF): ~25-30%

-Natural Detergent Fiber (NDF): ~30-36

-Relative Feed Value (RFV): ~150-175C

Application

Cattle, Chicken, Dog, Fish, Horse, Pig etc

Other Information

Packing,

We packed 40 bales of 50 lbs per Ton and 20 bales of 100 lbs per ton.

Note, We also pack as requested by our customers.