Global Dream Network - Pietermaritzburg
Tuesday, 19 February 2019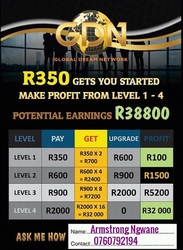 Item details
City:
Pietermaritzburg, KwaZulu-Natal
Contacts

Armstrong Ngwane

0760792194
Item description
All you need is R350 and you can be on your way to riches. Target is to earn R32000 in 4 levels. Below is how the program works over first 2 levels.

1. Have R350 ready
2. Ask for a link
3. Pay R350 to the person allocated by the system
4. Invite 2 people and give them your link (We will assist with getting people)
5. The 2 people you added under you will each pay you R350 you make R700.
6. Upgrade to level 2 with R600 the system will allocate a person to upgrade to.
7. 4 people below your first 2 people will pay you R600 each and you make R2400
8. Upgrade with R900 to the person the system allocates to you your profit is R1500

Look at the table for the full levels and how much you make per level.

This is unlike those programs where people end up paying one person who happens to be the admin and end up closing down before other people benefit. You pay directly to the bank of a person who invited you. If that person already has 2 people then people under him/her benefit from spillovers. Happy earning?