6 truly stunning top quality english bulldog puppies. - Pietermaritzburg
Wednesday, 11 December 2013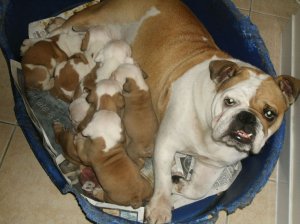 Item details
City:
Pietermaritzburg, KwaZulu-Natal
Contacts

Enxu

0795684017
Item description
We are pleased to announce the arrival of 6 truly stunning top quality bulldog puppies. Clear and fully registered with the Kennel Club these bulldogs are very special.
2 boy - red and white
4 girls - two fawn and white and two red and white.
Beautiful thick coats, excellent jaw lines, nice markings, and excellent bone structures.
Email back for more informtion on how to get one of these lovely pups.